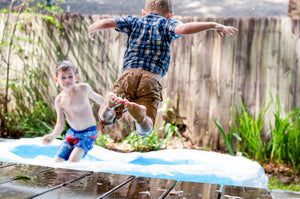 June Is for Being Outdoors
The month of June not only signals the arrival of the summer season, but it is also considered Great Outdoors Month. The designation is meant to reinforce the many benefits of spending active time outdoors and the magnificence of our natural sights like forests, parks, and more.
Many of us lead busy schedules, but you don't need to go too over the top to enjoy an exciting time outdoors. In fact, you can simply pitch a tent in your own yard. If you have little ones that aren't familiar with camping, it's a great way to introduce them to it without overwhelming. Add a couple of details and everyone can have a good time.
Again, you don't have to go overboard to make the experience fun for everyone. Some outdoor staples like s'mores and a flashlight can entertain just about everyone. A couple of board or card games are another great way to keep everyone engaged without using electronic devices.
Don't forget to bring along some outdoor gear like mosquito nets and you'll be all set to spend a great June evening outdoors. We have lots of different items to enhance what is sure to be a wonderful experience for the entire family.
This update is brought to you by The Relaxation Store. Our range of camping products includes bed canopies, hammocks, and mosquito nets. We also offer a broad range of outdoor products like hanging hammock chairs for use in your yard. Call 866-377-1224 to learn more about our many outdoor and travel products.
---