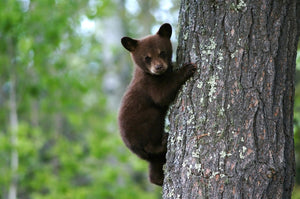 Hammock Fun with Some Amusing Animals
Hammocks are synonymous with relaxing. Laying down on one can lull you to a wonderfully restful sleep or you may use it as a place to disconnect from the world with a good book or your favorite music. Depending on where you live or where you set one up, a hammock can also attract the attention of others looking to enjoy the experience.
The MSN website recently shared an amusing video which is sure to go viral, if it hasn't already. In Asheville, North Carolina, a woman's backyard was visited by a pair of bear cubs. What makes the video so entertaining is the attempts by both bears to climb on top of the woman's hammock and relax. Despite their slapstick fighting, neither bear can rest on the hammock for too long as the hammock flips around and the other bear attempts to join in the fun.
If you live in an area where bears are common, be careful if you spot one hanging around your yard or hammock. While these animals are fascinating and make for great viewing entertainment, they are also fearsome and dangerous predators, especially if there are cubs and a protective mother is watching them.
This update is brought to you by The Relaxation Store. Our range of camping products includes bed canopies, hammocks, and mosquito nets. We also offer a broad range of outdoor products like hanging hammock chairs for use in your yard. Call 866-377-1224 to learn more about our many outdoor and travel products.
---