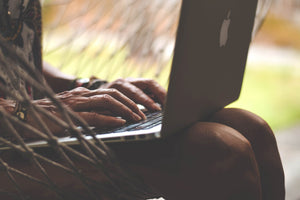 Grab Your Hammock and Work from Anywhere
Imagine being able to take your Nicamaka hammock practically anywhere you please to get your work done. Instead of being stuck at a desk, you could be relaxing by the beach or enjoying the weather with a drink. This may seem like something you see in movies yet there is a community of people that live this life.
Known as digital nomads, these are individuals that make use of modern technology to work remotely without any particular place to call home. Though they may seem like telecommuters, these people aren't relegated to one city nor are they required to attend the office meetings like regular employees. Where they choose to work often changes, from the city to the very country, allowing them to soak in new cultures, meet new people, and more. Most digital nomads earn their living by running an online business or doing freelancing work.
If becoming a digital nomad and being able to prop up a hammock as your workspace sounds like a fantastic idea, it's a decision that needs to be carefully evaluated. It's a good idea to slowly transition into it as it will take significant adjusting. Being with short vacations, find social groups, and make sure your income supports it.
When you're ready, visit the Nicamaka store to find just the right hammock.
This update is brought to you by The Relaxation Store. Our range of camping products includes bed canopies, hammocks, and mosquito nets. We also offer a broad range of outdoor products like hanging hammock chairs for use in your yard. Call 866-377-1224 to learn more about our many outdoor and travel products.
---