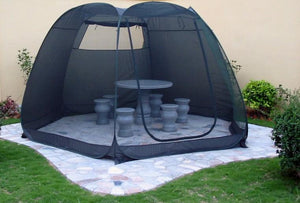 Enjoy an Alfresco Thanksgiving
With many of us celebrating Thanksgiving on Thursday, the tradition is to have a big meal indoors at a table that can seat a large number of people. Maybe you'd like to break from the tradition and have a much smaller gathering outdoors, perhaps with just a few members of the immediate and extended family. The Frikon Deluxe Hexagonal Screen Room is an option that will allow you to enjoy an alfresco Thanksgiving free of mosquitoes trying to ruin the day of gratitude.
The Frikon Deluxe Hexagonal Screen Room is perfectly sized for a number of different uses, whether it's spending time outdoors in the patio, a beach outing, a picnic, parties, the list of uses goes on and on. It features six panels and will keep you free from insects while also providing shade in case those rays of the sun are beaming down a little too hard. Due to its size, it can hold a table and about twelve chairs, yet a mere two people can easily fold it away once it's time to conveniently store it for future use. This flexibility makes the Frikon Deluxe Hexagonal Screen Room easy to take and set up virtually anywhere!
This update is brought to you by The Relaxation Store. Our range of camping products includes bed canopies, hammocks, and mosquito nets. We also offer a broad range of outdoor products like hanging hammock chairs for use in your yard. Call 866-377-1224 to learn more about our many outdoor and travel products.
---