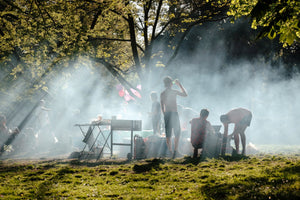 Easy Hacks for a Great Outdoor Cookout
With the summer season here and the Fourth of July happening next week, cookouts and barbecue bashes will be aplenty. With the season, however, there comes a greater chance of having to deal with bugs ruining the experience. Thankfully, a couple of simple hacks can make the experience better for everyone.
It's not uncommon to find a bug wanting to take a sip of your tasty drink only for it to fall into your drink and potentially ruin it. A simple way to keep your drinks bug free is to use cupcake liners which can be placed upside down on the drink. Simply insert a reusable straw and your bug problem is solved.
S'mores are a staple of any outdoor cookout but by the time dessert arrives it's often too late to use a charcoal grill. If you don't have a fire pit, you can always use a terracotta pot to make them. All you need to do is line the pot with aluminum foil, add the charcoal, and you've got a makeshift grill.
Don't forget the importance of wearing mosquito repellent with DEET as well as wearing sunblock with an SPF of at least 30 during the summer.
This update is brought to you by The Relaxation Store. Our range of camping products includes bed canopies, hammocks, and mosquito nets. We also offer a broad range of outdoor products like hanging hammock chairs for use in your yard. Call 866-377-1224 to learn more about our many outdoor and travel products.
---