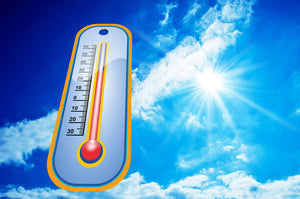 Don't Let the Summer Heat Ruin Your Experience
Officially, summer does not start until the 20th, yet current temperatures already make it feel like summer is here. As the temperatures are rising into and above the upper 90s, it's important to take the necessary measures to protect yourself and remain safe.
Make sure to wear loose-fitting clothing while outside, and do not wear black because this will draw sunlight. Sunscreen with at least 30 SPF also assists with protecting the skin against ultraviolet rays that cause the skin to age and increase the chances of skin cancer.
Hydration is especially important during the summertime. Beverages that are filled with electrolytes are important in keeping the body well hydrated, in addition to drinking water. However, you might be hydrated yet not realize it. One way to find out if the body needs fluids is to pay attention to the urine color. If it appears dark yellow or concentrated, this can mean that the body is not sufficiently hydrated.
Keep in mind that older people, diabetics, children aged four and under and those with lung or heart disease are at higher risk of developing heat-related disease. Signs of possible overheating may include someone feeling lethargic, headaches, nausea, or feeling confused.
This update is brought to you by The Relaxation Store. Our range of camping products includes bed canopies, hammocks, and mosquito nets. We also offer a broad range of outdoor products like hanging hammock chairs for use in your yard. Call 866-377-1224 to learn more about our many outdoor and travel products.
---