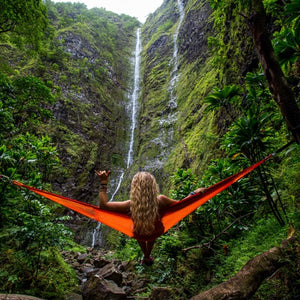 Bring a Hammock to Your Next Camping Trip
Camping has remained a much-beloved, longtime outdoor tradition with a near-universal appeal. The standard thing to do is to bring along a tent. While this is a tried and true way to enjoy the experience, there is always the process of having to set it up and ensure its rigidity. Furthermore, depending on the tent, they can end up being bulky and not the most compact thing to carry. A hammock may be a great alternative. Let's explore how.
A hammock is elevated which means there is no risk of potentially having to rest against the wet or cold ground. The gentle movements caused by the wind can also help a person fall asleep easier on a hammock as they are practically "rocked" to sleep.
Again, tents may require the use of stakes, poles, and require time to set up. Hammocks, on the other hand, can be set up in just a few minutes and may be much easier for those that are just getting started with camping versus seasoned pros.
Part of the appeal of camping is being in the middle of nature. A tent provides plenty of privacy but it also means that you can't enjoy views like the night sky.
This update is brought to you by The Relaxation Store. Our range of camping products includes bed canopies, hammocks, and mosquito nets. We also offer a broad range of outdoor products like hanging hammock chairs for use in your yard. Call 866-377-1224 to learn more about our many outdoor and travel products.
---