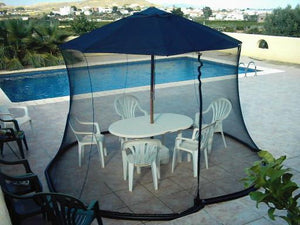 A Perfect Fusion of Umbrella and Mosquito Net
You've decided you'd like to spend some time outdoors with your spouse or loved ones but you're fully aware that the place you plan to go is known for its critters. The last thing you want is to do with mosquitoes or other flying fauna ruining your experience. With that in mind, we'd like to tell you more about the Nicamaka 12' Umbrella Screen Enclosure Mosquito Net.
The 12 ' Umbrella Screen Enclosure / Mosquito Net is the biggest mosquito umbrella net available. A perfect addition to the patio or any outdoor area, the 12 ' Umbrella Mosquito net make sure the bugs stay out while still allowing you a full view of your scenic surroundings. Setting up takes just a few minutes and the zipper means you can easily get in and out with minimal fuss. You'll notice the perimeter of the net is weighted down using a sand sleeve so that the net remains up even if Mother Nature suddenly decides to send a strong blast of wind in your direction.
We can't finish this up without talking about the umbrella located at the top of the net. It will provide some much-needed shade on sunny days and it serves as something of a beach umbrella albeit with the additional layer of a screen.
This update is brought to you by The Relaxation Store. Our range of camping products includes bed canopies, hammocks, and mosquito nets. We also offer a broad range of outdoor products like hanging hammock chairs for use in your yard. Call 866-377-1224 to learn more about our many outdoor and travel products.
---